Tropical Mocktail With Pineapple and Mango
This tropical pineapple and mango mocktail will be your new go-to drink for hangover-free evenings and relaxed weekends!
Want that beach bar feeling in the urban jungle? Nothing could be easier with this simple tropical pineapple and mango mocktail recipe. This drink is perfect for orange-red sunsets on balmy summer evenings - or for mixing up a tropical holiday feeling at home when it's 10 degrees and raining. And with this one, you can refill the glass all night long, no hangover will wait around the corner.
Unlike "regular" cocktails, this tropical alcohol-free mocktail is a real treat for the stomach! That's right, you're not the only one loving this drink, your gut will be equally happy. How does it work? The digestive enzymes naturally contained in pineapple and mango support your digestion by breaking down and processing the food in your gut. And to make it even better, you can find both superfoods in the Gut Restore Mix.
With Gut Restore, it's never been this easy (and delicious!) to take care of your gut. This innovative blend with live cultures delivers good gut bacteria directly into your microbiome. Fermented ginger, carrot, mango and pineapple are natural digestive aids and give the mix a pleasant fruity-fresh taste; simply mix 2 tsp in water for an instant tropical digestive drink!
Spruce up the tropical feelings with Gut Restore - and enjoy your beach-like set-up at home!
Tropical mocktail with pineapple and mango
Ingredients:
2 tsp Gut Restore Mix
250 ml coconut water
5 chunks frozen pineapple
5 chunks frozen mango
½ lime, juiced
A few ice cubes
Directions:
Place all the ingredients in a high-speed blender and pulse until smooth.
Pour the mocktail into a glass, decorate the rim with a lime wedge and serve.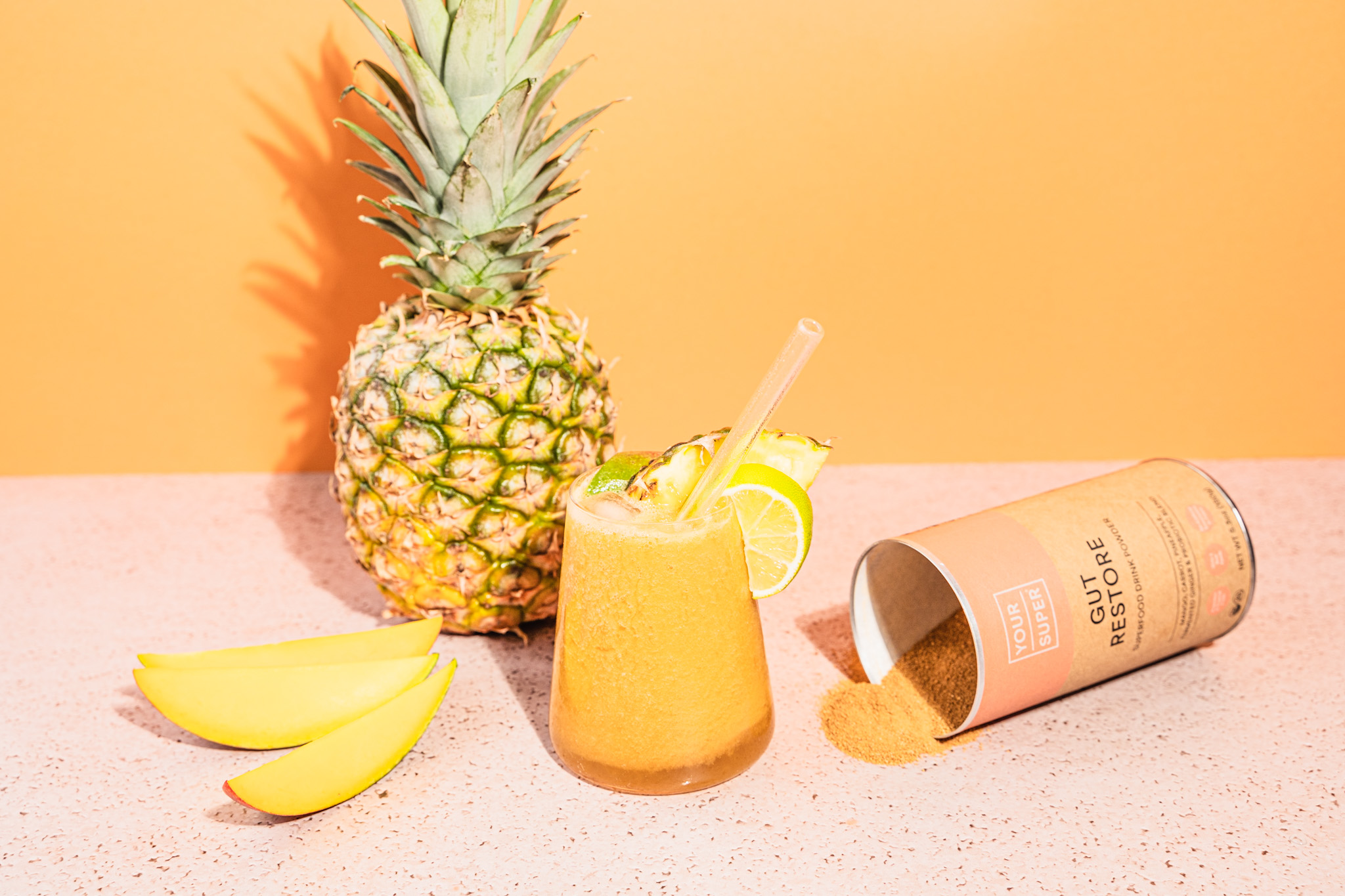 Products Used